iPhone 6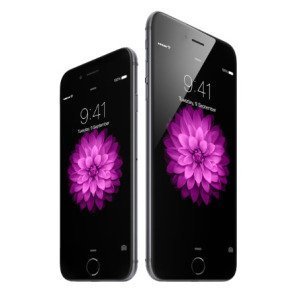 The elements of beautiful design.
To create a larger iPhone that's extraordinarily light, we pioneered new display technologies. We carefully selected every material. Each detail was meticulously designed, engineered and crafted until iPhone had an incredibly thin, continuous form. From the anodised aluminium and stainless steel to the curve of the polished glass, iPhone 6 is worth its weight in gold, silver and space grey.
Not just a bigger display. A better display.
The size of the new, higher-resolution Retina HD displays on iPhone 6 and iPhone 6 Plus may be the first thing you notice. But what you experience is so much more. With innovations that deliver higher contrast, dual‑domain pixels for more accurate colour at wider viewing angles, and an improved polariser, these are the thinnest, most advanced Multi‑Touch displays we've ever made.
Innovation on full display.
The Retina HD display is your window into everything you do on iPhone. So it has to be great. And with full sRGB colour standard, higher contrast, and incredible brightness and white balance, it is.
Higher contrast
Rather than using traditional methods to create the higher-resolution Retina HD display, we developed an advanced process of photo alignment. This involves using UV light to precisely position the display's liquid crystals so they lie exactly where they should. Better-aligned crystals deliver a superior viewing experience, with deeper blacks and sharper text.
The technology behind Touch ID.
There's a lot of technology at work below the surface of the Home button. Touch it and the surrounding stainless steel ring detects your finger and wakes the capacitive touch sensor. The laser-cut sapphire crystal surface of the button then directs the image of your finger to the sensor, which reads beneath the outer layers of your skin to get a detailed fingerprint. Software then reads the ridges of your fingerprint and finds the match to unlock your phone.